Opening Hours
WE ARE OPEN:
EVERY SATURDAY
10am – 1pm
Upcoming Events
CLICK HERE
FIND OUT WHAT'S
COMING UP AT
THE MUSEUM
Mission Statement
To preserve and display the collection of artefacts covering 1000 years of history of St Bridget's church and to promote knowledge and understanding of the museum, the church and local history.
Who Was Charles D. Brown?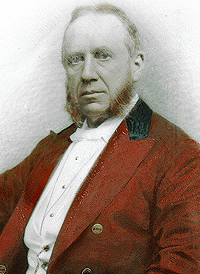 This museum was founded in 1892 in memory of Charles Dawson Brown of West Kirby, local historian, antiquarian and benefactor.
Charles had a wide range of personal interests and was always concerned for the welfare of others. He played an important role in many aspects of local life including writing articles on the history of West Kirby Parish, being Church Warden at St Bridget's Church and he was a member of the Wirral Board of Guardians. He was a key figure at the Royal Liverpool Golf Club, to whom we are grateful for the photograph of him as club captain.
Following his death, locals raised funds for a memorial window in the church and the Hearse House by the old school room was converted to become the Charles Dawson Brown Museum. This museum would house the stone items that he was perceptive enough to save from the builders' cart during renovation of the church.

Two annual prizes for scholars at Calday Grange Grammar School were instituted; and a portrait of Charles Dawson Brown was commissioned for the Museum.
He is buried in St Bridget's churchyard and if you come to visit the Museum on a day that the church is open, you will be able to view the magnificent stained glass memorial window in his honour.
There is more to learn about Charles Dawson Brown at the museum.